Wining and Diving – California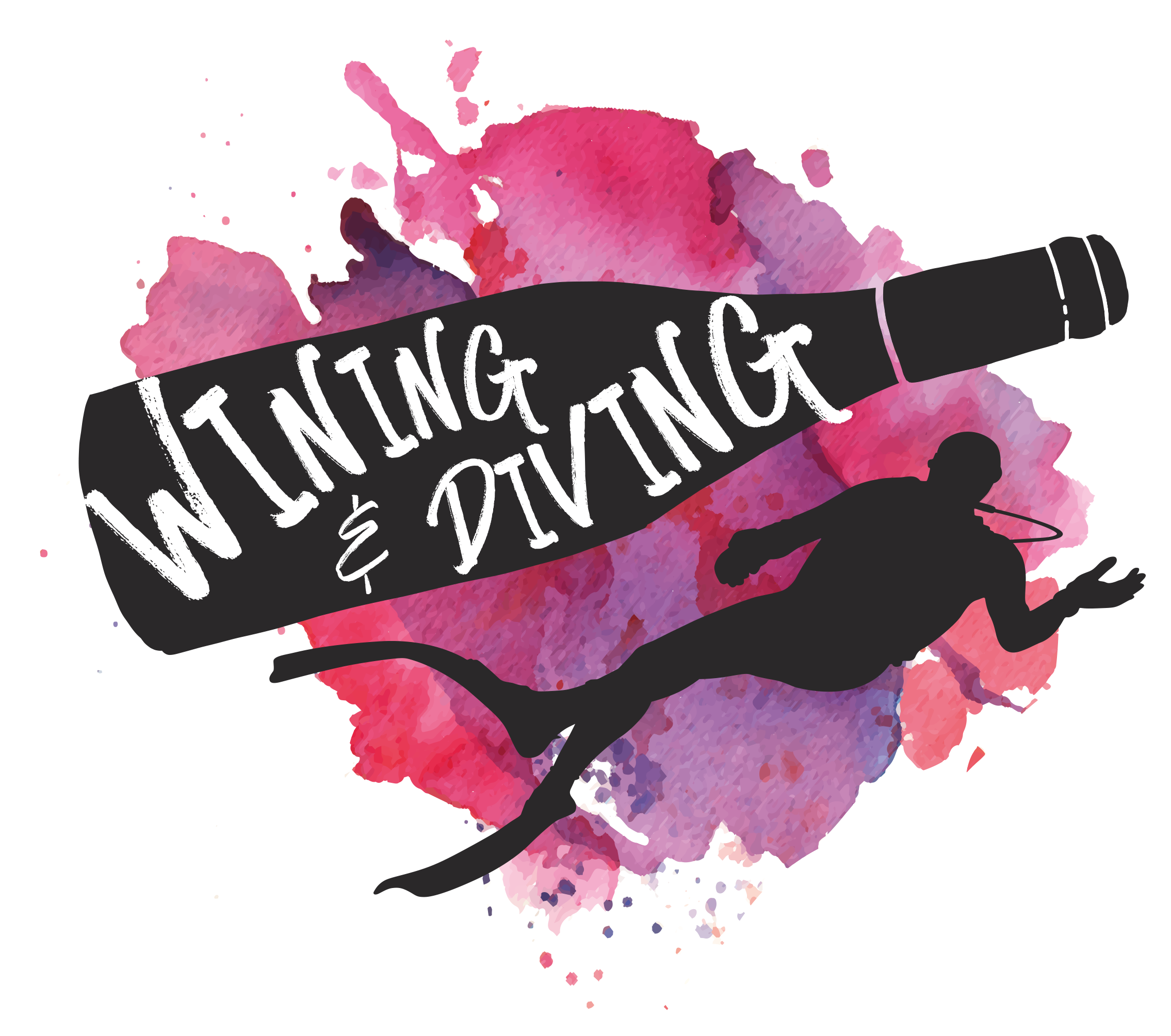 The Wining and Diving series sees Nick and Caroline Robertson-Brown embark on a tour to tickle the taste buds as well as to discover amazing dive sites in wine-making regions around the world. Some of the best wines are influenced by sea breezes and a coastal climate, allowing two of Nick and Caroline's passions to be combined into one epic journey.
**Please note, Nick and Caroline are not encouraging drinking before diving! The two activities are kept well apart on each of these trips.
---
California has over 1000 miles of coastline to explore and it also has over 1000 wineries so it is a perfect destination for Wining and Diving! It has always been a dream of ours to tour this rugged coast that makes for an epic road trip. Our trip, done over two separate visits, would take us from Fort Bragg in the north to San Diego in the south, along over 700 miles of one of the best coastal roads in the world. We flew into San Francisco, picked up a convertible Mustang, stuffed our diving and camera gear into every available space and headed north to start the wine tasting part of this trip.
Our first stop was to a vineyard whose wine we knew and loved already – Joseph Swan located in the Russian River Valley. They make a Zinfandel that could make you weep and so we wanted to visit the taste more of their wines that do not make it to the UK market. The drive through Russian River was worth the trip alone, with giant redwoods lining the winding road, sun shining, roof down, it was perfect. We also dropped into what must be one of the most eco-friendly vineyards in the world, Inman Family Wines. Organic and solar-powered, sustainability is key. Their Endless Crush Rose is a delight for a warm day on the terrace.
Whilst the sun was shining, the wind was also blowing and so our thoughts of diving in the north were put on hold. Instead, we visited glass beach in Fort Bragg, where over many years, glass tipped onto the beach has worn down to make smooth, multi-coloured, pebbles. A beautiful site, made from what was once rubbish dumped on the beach.
Further south, in Monterey, we reached the crossover point for our trip, as we moved away from wine tasting and into diving. We had one more vineyard we wanted to visit, again one we knew from drinking with friends in our back garden, Wrath Wines. They have tasting rooms in the delightful town of Carmel just a short drive from where we would be diving the next day. They wines are rich, full of flavour and their Pinot Noir is the best we have ever sampled.
Diving the Pacific Ocean in California has always been a dream, and so we had spent many happy hours on the internet researching the best dives and we made a list of the dives we wanted to fit in. Our first was Point Lobos in Carmel by the Sea. We were welcomed to this picturesque bay by a couple of Sea Otters floating on the surface, seemingly sunbathing. Our guide, Phil, had warned us that while the sea was flat calm, the winds had made visibility less than perfect. "You should have been here last week" he said, "when we had 20 feeding Humpback Whales by the boat at the end of the dive!" Our dive saw us swim through the giant kelp, explore anemone-covered boulders and be followed by a mischievous harbor seal. It was a pretty good start.
Heading further south we stopped in Ventura to do a day trip to Anacapa Island. A rugged volcanic island a couple of hours offshore. On the boat ride over to the island we saw whales, orcas and dolphins, as we skimmed across a flat calm ocean. On the dive we marvelled at the life covering every inch of the seabed and loved the bright orange Garibaldi fish who would face up to the camera as you approached.
We continued down to Long Beach, near Los Angeles, where we dived under a working oil rig, covered in marine life. We were joined by a playful young sea lion who zoomed around the small group of divers for over an hour. We also headed out to Catalina Island to dive the kelp forest and to look for the huge Black Sea Bass that the area is famous for. Diving in Giant Kelp is a wonderful experience akin to walking through a rain forest, the fronds towering above you and block out most of the sunlight in the denser patches, and letting dramatic cathedral light through making for a very atmospheric dive.
Our final stop was near San Diego, in the beautiful town of La Jolla. The coast here is home to a colony of sea lions that seem perfectly at ease sharing their home with locals and visitor alike. You can snorkel and dive here and we did both to enjoy these enigmatic creatures from both the surface and at depth. We also snorkeled with Leopard Sharks and turtles.
California offers the traveller so much. The coastal road is stunning, with forests lining one side and the vast ocean stretching out to the horizon on the other. The cities are vibrant with excellent nightlife; great food, drink and entertainment. The vineyards have some of the finest wines anywhere in the world and the diving offers some of the very best cold-water experiences we have had. Is there anything better than Wining and Diving in California?
---
Links
For more information about Frogfish Photography click here.
For information about visiting California click here.
Dive Centres
Sundiver International, Long Beach
Vineyards
Jeff chats to… Christopher Bartlett, MD of Indigo Safaris, about scuba diving in Dominica and Mexico (3 of 5)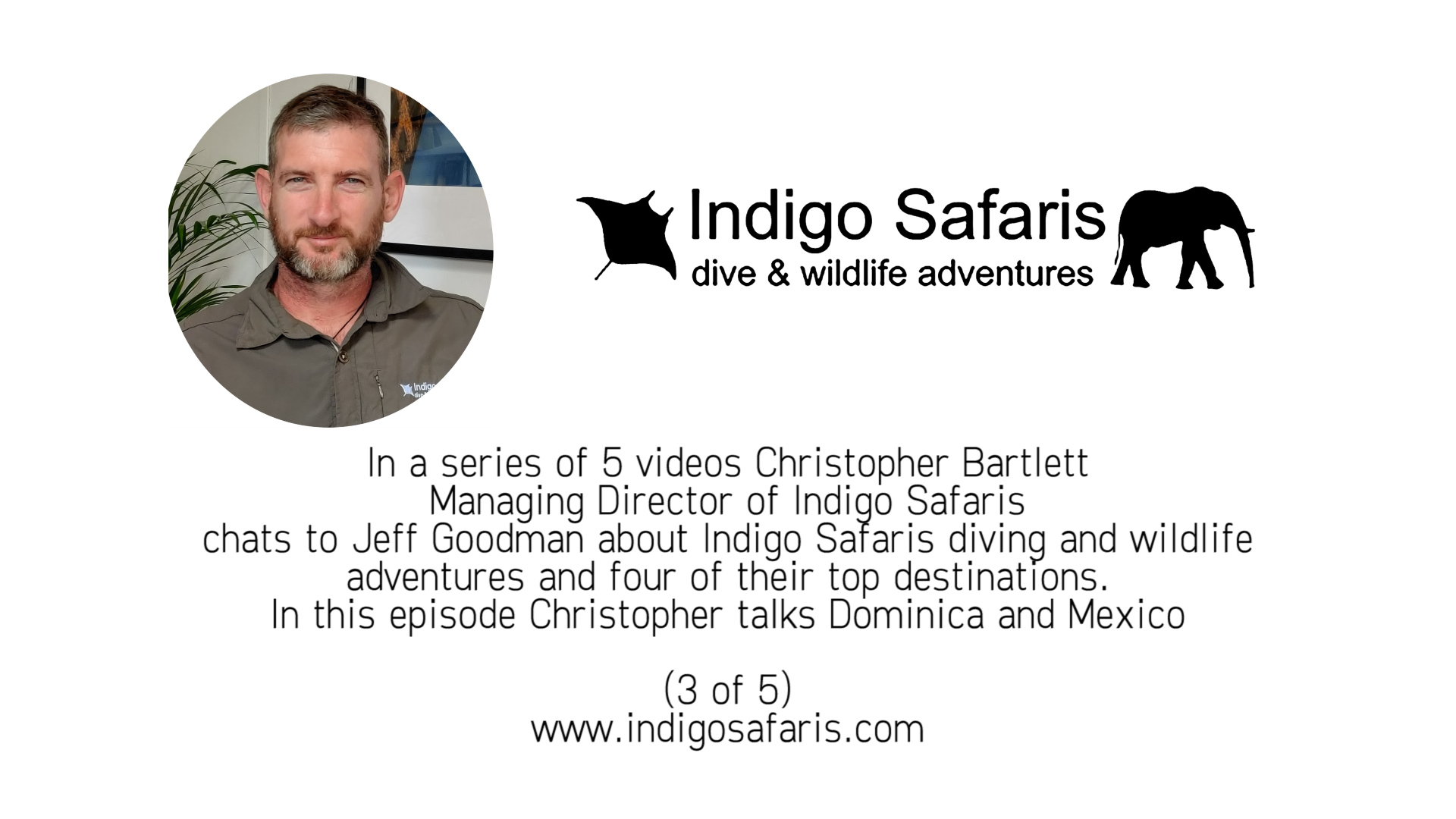 In the third in this exclusive series of five videos, Jeff Goodman, Scubaverse Editor-at-Large, chats to Christopher Bartlett, Managing Director of Indigo Safaris, about their diving and wildlife adventures, and some of their top destinations. In this episode Christopher talks about Dominica and Mexico.
For more information, please visit www.indigosafaris.com
Rather listen to a podcast? Click on this link to listen HERE.
Diving with…  Pablo Calderon Cadiz, Takata Experience, Mahaual, Mexico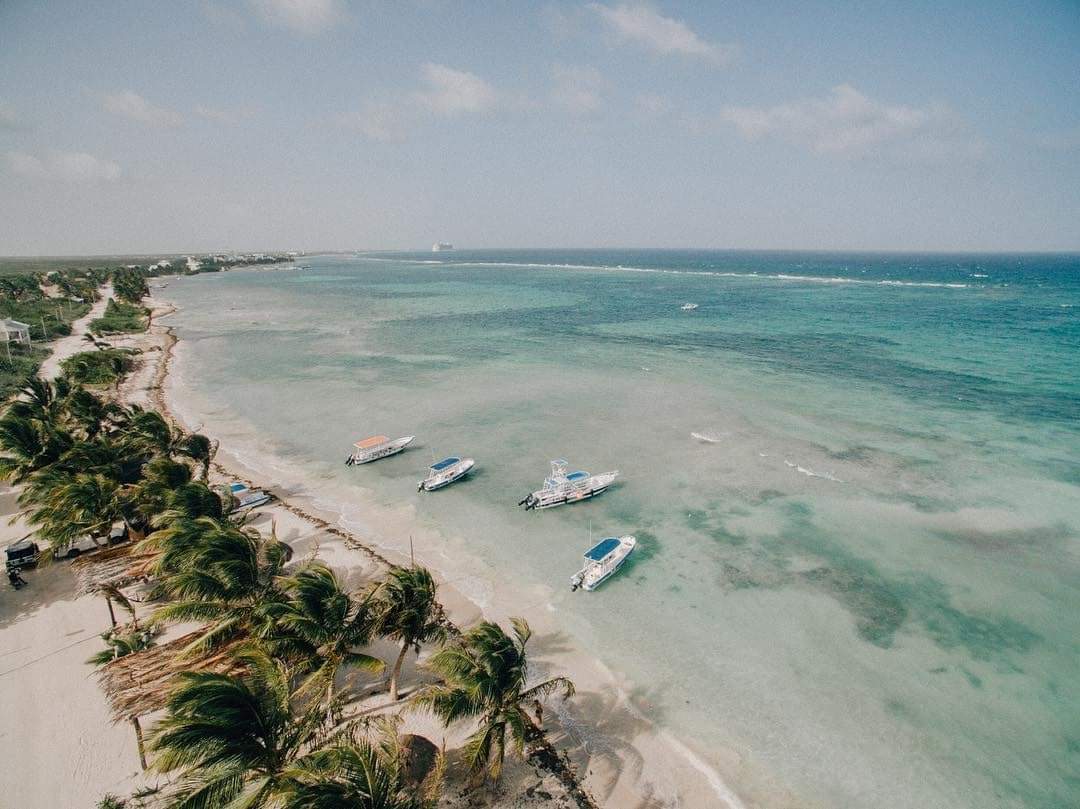 In this ongoing series, we speak to the people who run dive centres, resorts and liveaboards from around the world about their businesses and the diving they have to offer…
---
What is your name?
Pablo Calderon Cadiz
What is the name of your business?
Takata Experience
What is your role within the business?
Owner / General Manager
How long has the business operated for?
6 years
How long have you dived for, and what qualification are you?
I have been diving for 16 years; I am a PADI IDC Staff Instructor
What is your favorite type of diving?
I really enjoy all types of dive but deep dives and dives with crazy topography are by far my favourites.
If you could tell people one thing about your business (or maybe more!) to make them want to visit you what would it be?
We are a dive center and also a research center, so we merge both into one big idea.  When you dive with us you also benefit the reef, as we put part of that money into our restoration program. We are also one of the only dive centers in the world that has a full research center working together with us. That's why our official hashtag is #Divewithpurpose
What is your favorite dive in your location and why?
My favorite dive in Mahahual is Piratas, because of the beautiful topography and the amount of big animals you can see, such as turtles, manatees and sharks.
What types of diving are available in your location?
One of the best things about Mahahual is that there are dive sites for all levels, from shallow reefs with beautiful life to walls that can go down to 150 meters within 5 minutes from the shore. You can always choose what you want, if you are looking for biodiversity, topography, shallow sand patches or very deep walls, we have them all.
What do you find most rewarding about your current role?
The diving industry is an industry that is constantly evolving and from my role I am able to always bring that to Takata.  I am always looking for ways to create a solid business culture, to make sure the people that work for us can always develop themselves from a professional perspective, but also from a personal one. We have created many different programs that are unique to us, where we merge the dive and research center. All that is possible because I can take those decisions. To see how your dream becomes true is the biggest reward ever.
What is your favorite underwater creature?
Sharks are my number 1, and if I can be more specific, Hammerheads!!!
As a center what is the biggest problem you face at the moment?
I feel that many dive centers in the world don't  know yet what makes them unique, so the way for them to attract people is to charge very low prices, sometimes that is very difficult, because the one that is next to you can charge 30% less than you for the ¨same service¨. I believe we should always find what is unique to us and to create a value on it. We should all focus on the professionalization of our industry.
Is your center involved in any environmental work?
As I mentioned before, we have a full research center, our director has 2 master degrees and our 2 biologist both have PhDs. Actually our research center was name as Actor for the UN Decade On Ecosystems Restoration for the next 10 years.
Our research center works together with the Mexican government to ensure a sustainable development in the area and to implement big scale conservation and restoration projects in Mahahual.
Are there any exciting changes / developments coming up in the near future?
As we are a new company, there are always exciting thing coming our way, in these years we became an IDC center, UN partners, we did a small hotel and we are looking forward to develop our research center even more.  We would like to become the biggest research center in Mexico which is very ambitious and to become leaders in diving, restoration and everything that involve costal ecosystems. We dream big because we love what we do.
How do you see the SCUBA / Freediving / snorkeling industry overall? What changes would you make?
I think the industry is doing ok but not great.  For sure freediving has grown a lot in the last 10-15 years. There are several organisations around the world who do great work, but we need more people and businesses looking to do the exceptional.   Sometimes talking with diving friends around the world, we all agree that this is probably one of the few industries where the prices we charge are the same or even cheaper than 5 or 10 years ago. We urgently need to proprofessionalize the industry and put the correct value on our product and services.
Finally, what would you say to our visitors to promote the diving you have to offer?
If you guys are looking for a unique immersive experience where you can mix your passion for diving with deep understanding of marine and costal ecosystem, then we are your choice.
Where can our visitors find out more about your business?
You guys can follow us on IG: Takata.experience 
Our website is: www.takataexperience.com