Why diving Cocos should be at the top of your bucket list!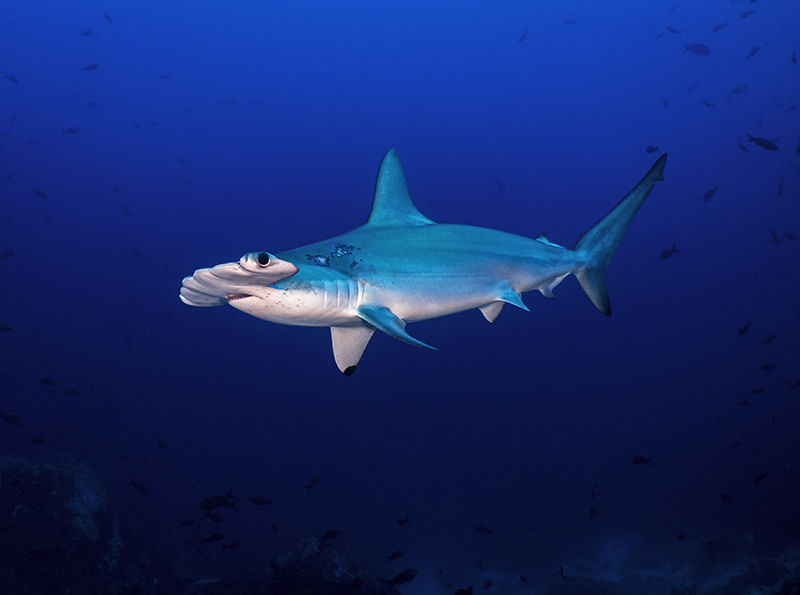 Missed part one of Sean's blog on his trip to Cocos Island? You can read it here.
You ever expected so much from a place that you've then been left disappointed once you've finally had the opportunity to visit? Well, thankfully that didn't happen with my visit to Cocos Island. Back in 2009 my friend was encouraging me to take up diving and showed me videos of his trip to Cocos to entice me. Ever since then and the start of my diving life, Cocos has been top of my dive bucket list. A lot of my expectations were alleviated slightly as a lot of his videos were the crazy whitetip reef shark night dives that are unfortunately not permitted anymore. However, I was still expecting a lot from a place that had an incredible reputation. Thankfully it lived up to that reputation and more.
The island itself had already won my heart on arrival. One of the most beautiful places I've ever laid my eyes on. Lush green rainforest broken up by cascading waterfalls drawing you down to a rugged beautiful coastline. It really is paradise on earth. Then I finally hit the water and quickly realised paradise continued beneath the waves. The checkout dive was a sure sign of things to come and a great entry into life diving at Cocos Island. A nice calm shallow dive at Chatham Bay but with lots of life to see and many whitetip reef sharks that weren't as skittish as other places I've dived with them. Such a fun relaxing dive and then there it was!! My first Cocos scalloped hammerhead. Hang on, this is only the first dive and I'm only at around 7 metres or so. I really wasn't expecting this, as thought I'd only see them at the deep cleaning station sites. It gave me a real buzz for the diving week ahead.
Sure enough the next dive at Manuelita Outside was really what diving at Cocos Island is all about. Hammers, hammers and more hammers!! Scalloped hammerheads were everywhere at the three cleaning stations along the wall with action pretty much starting as soon as we hit the water. While we perched up along the wall and looked on over the cleaning stations we watched as some would come in to be cleaned while groups patrolled the blue outside. What a fascinating spectacle to witness and it was only dive 2!!
The worry after such a crazy fantastic second dive was the expectations for the rest of the week. Was this a sign of things to come? Or were we to be left disappointed if we didn't get another dive like that again? Luckily it was a great sign as the diving continued to deliver dive after dive through the week. I think I can only recall about 1 or 2 dives out of 21 where I didn't see a hammerhead. They were prevalent throughout the week even making regular appearances on the more relaxed shallower third dives of the day.
Dirty Rock and Manuelita Coral Garden were my favourite dives of the trip and continually delivered for hammerhead action. What you learn when diving in Cocos is that if a dive site is hitting early, then it's good to dive that site on more than one occasion. These two sites were on fire and delivered dive after dive. Not only were the hammerheads in abundance and made close passes. We also hit big moments at both sites that have gave me some of the best dives I've had in my life. In fact, one of the other guests I was diving with has been to Cocos 19 times and on one particular dive we had at Dirty Rock she said it was the best dive she has ever done there. I'd hit the jackpot on only my first visit to the island.
The dive started deep with numerous hammerheads at a cleaning station around 30 metres deep where I got one of my closest hammerhead passes. Hammerhead cleaning stations are typical of Cocos, whereas what happened next was completely unique and was the reason we all came up from the dive buzzing. As we shallowed up, we made our way around the rock to the other side and was greeted by BIG circling Galapagos sharks at around 16 metres. This was a completely natural encounter with no bait used as they swam past within touching distance at times. Juan Manuel has been a dive guide in Cocos nearly 20 years and had never seen anything like this before with Galapagos sharks. Such an incredible natural experience where my only problem was I couldn't stay longer due to deco time and air consumption. I could have stayed there for hours with them circling between the group.
Close interactions with an eagle ray at Dirty Rock and the amazing school of bigeye trevally that we encountered on 3 of the 4 dives there added to the lure of this site. While Manuelita Coral Garden was a more relaxed shallow dive where around 20 metres was the max depth I reached. It was still equally exciting and gave me two of my most memorable moments. On one dive I had moved away from the group slightly watching the hammerheads circle around the reef through the cleaning stations. I then had a look over my shoulder and was surprised by a juvenile whale shark bolting along the reef at around 5 metres. It didn't stay for long but was such an exciting moment as it was completely unexpected. That moment was joined by seeing mating whitetip reef sharks on one of the dives there. Another completely natural occurrence that left the whole group buzzing with excitement.
While we hit big at these particular sites, the rest of the diving we did around the island had its moments and delivered amazing dives throughout the week. I'm a sucker for a critter and in particular octopus and frogfish are some of my favourites. Seeing both these on what is a popular big animal destination adds to the appeal of a trip to Cocos Island. We also got lucky and got to see the elusive Cocos batfish that is endemic to this area, a really interesting and comical looking critter with its big red lips. The schools of snapper (particularly blue-and-gold snapper) and soldierfish were in abundance on most dives with the swim-through and caves at Submerged Rock creating memorable moments with them and the whitetip reef sharks. Marbled rays were always fun to see and friendly at times.
Overall, what an incredible dive trip to return to after a forced Covid break over the last year and a half. When expectations are so high but can still be exceeded you know you're in a special place. From the first minute to the last, the dives continued to deliver and we were even given a parting gift on the very last moments of the very last dive. A huge school of bigeye trevally rose from the sandy bottom of Manuelita Coral Garden and engulfed the group, staying with us for our safety stop as if to ensure we have a reason to return. Something I would rush to do in a heartbeat.
More information
---
Relief Fund raises over $26k to support PADI Members impacted by recent Maui fires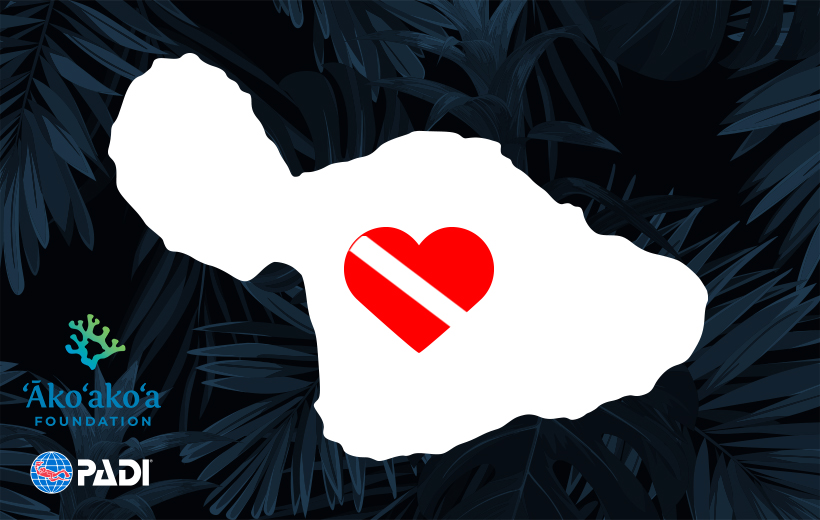 In response to the devastating wildfires in Maui, Hawaii, PADI® teamed up with the Ako'ako'a Foundation, creating a relief fund to directly assist members in Maui get back on their feet and in the water as soon as possible. To date, $26, 961has been raised to support PADI Members impacted by the recent fires.
The Ako'ako'a Foundation is based in Kailua-Kona on the Big Island of Hawaii, whose passion and purpose is to unite the stakeholders of Hawaii's nearshore marine environments and work together to create positive ocean change.
"Our thoughts and prayers go out to all those who have been affected by this tragedy," says Drew Richardson, CEO and President of PADI Worldwide. "United above and below the surface of our shared blue planet, we stand together with the dive community to provide strength and speed in recovery efforts."
Join PADI and the Ako'ako'a Foundation with your support of relief efforts for the diving community.
100% of all donations to this relief fund will be distributed directly to dive professionals in Hawaii in need of recovery from the devastating fires.
If you are an individual or business in Hawaii who wishes to extend or receive support, contact PADI Regional Manager Kyle Ingram at kyle.ingram@padi.com.
Oonasdivers say Hola! to Mexico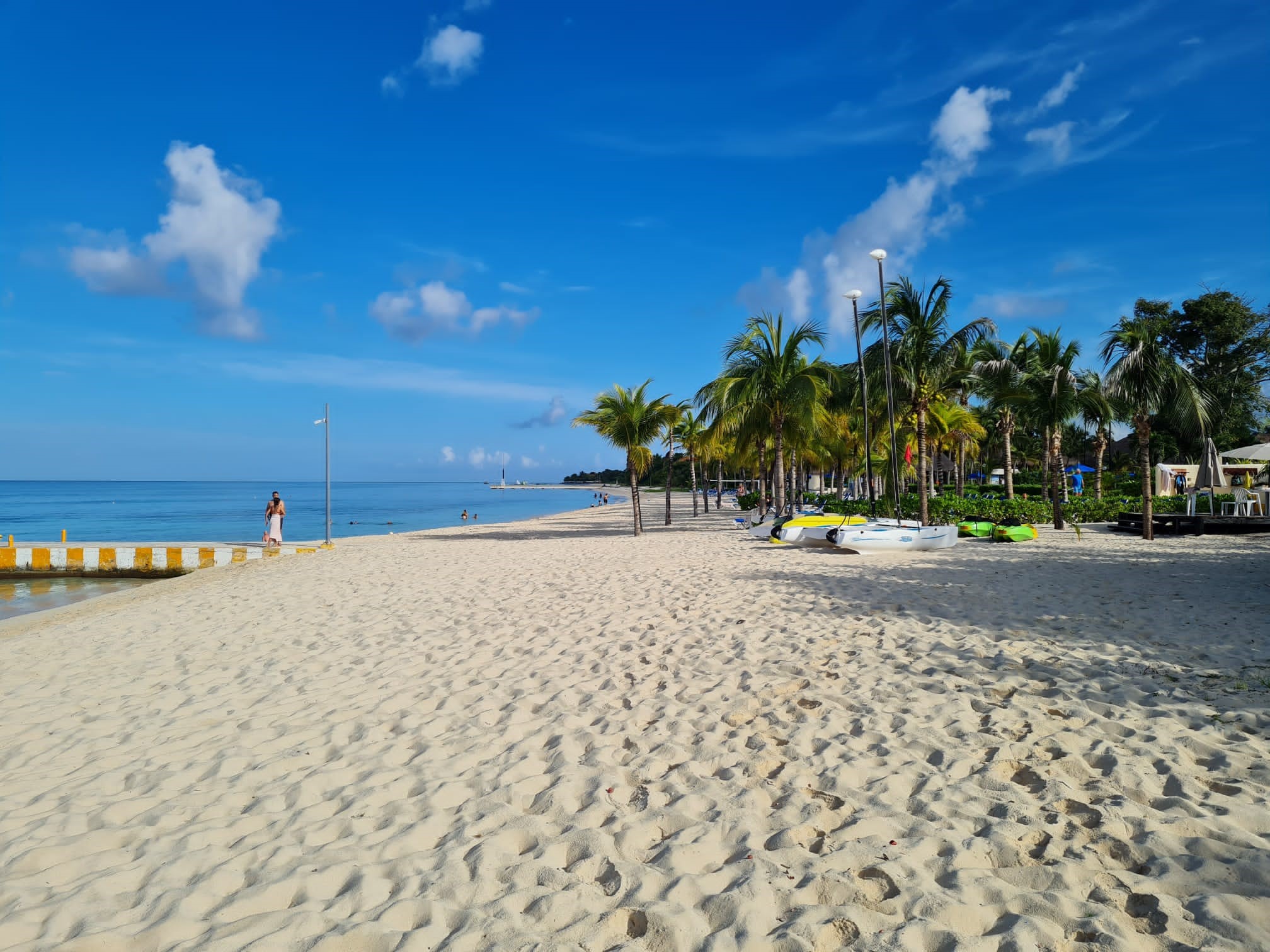 Oonasdivers is very excited to annouce a big Hola! to a new destination: MEXICO!
Here's what they have to say:
The land of tacos, tequila and so much more!
Discover a world of tropical indulgence and endless adventure on the Mexican-Caribbean coastline: exquisite beaches, sumptous retreats, turquoise waters, palm-studded sands, mouth-watering cuisine, diverse landscapes, ancient marvels and picture-perfect vistas. Mexico is an icon for the tropical beach idyll, the spirit of escapism and the warmth of authentic culture.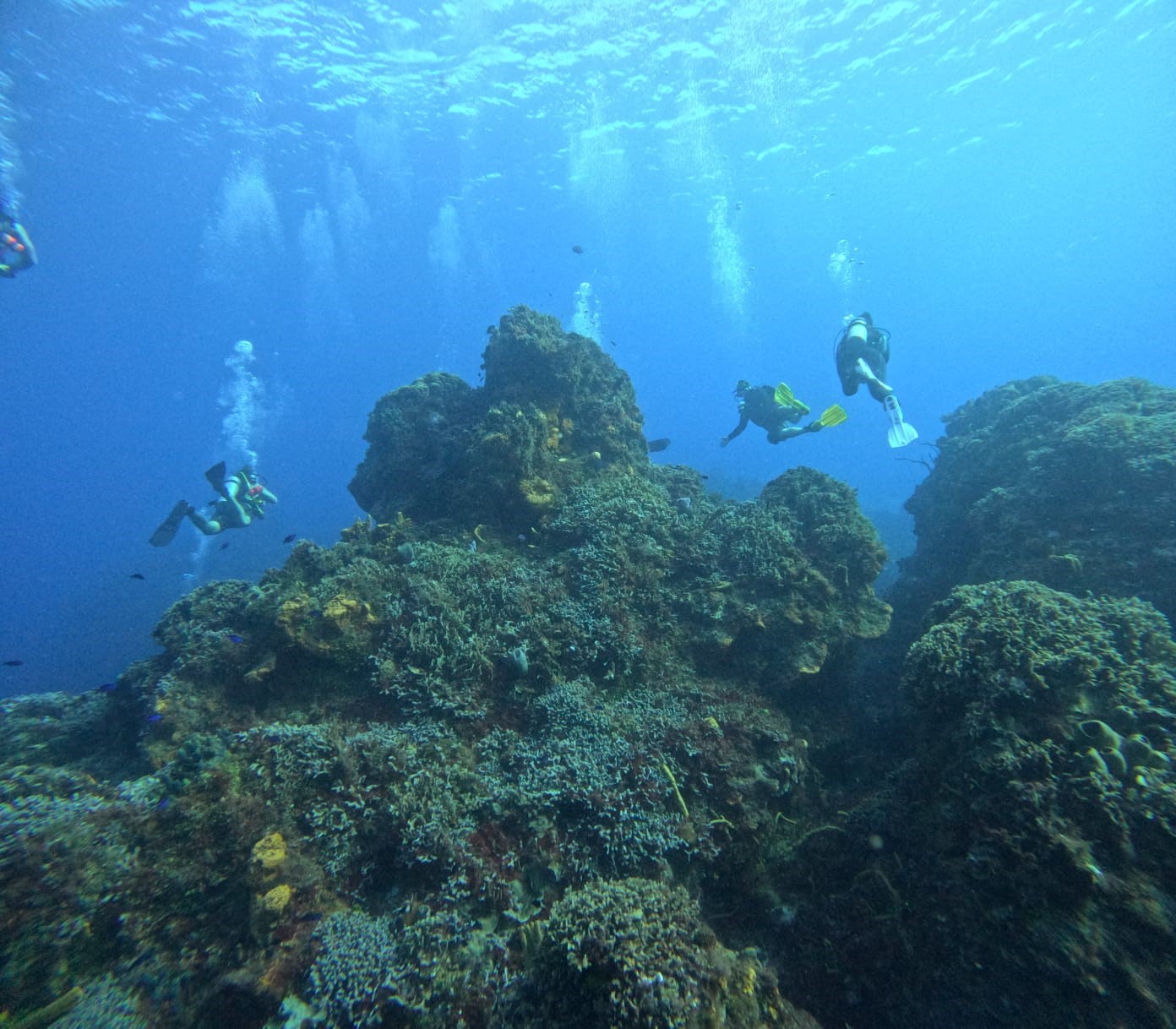 Yet Mexico's true standout gem is what lies beneath the surface of its waters. Home to the Earth's second largest coral barrier reef, the world's largest underwater cave system, spectacular geological features and breathtakingly unique landscapes, Mexico's thriving eco-system is sure to delight every diver.
A slice of paradise on every shoreline – both above and below water – and now the team at Oonasdivers want to bring the Mexican adventure to you.
Prices for a dive holiday to Cozumel start from £1995pp and Playa del Carmen from £3295pp with Oonasdivers.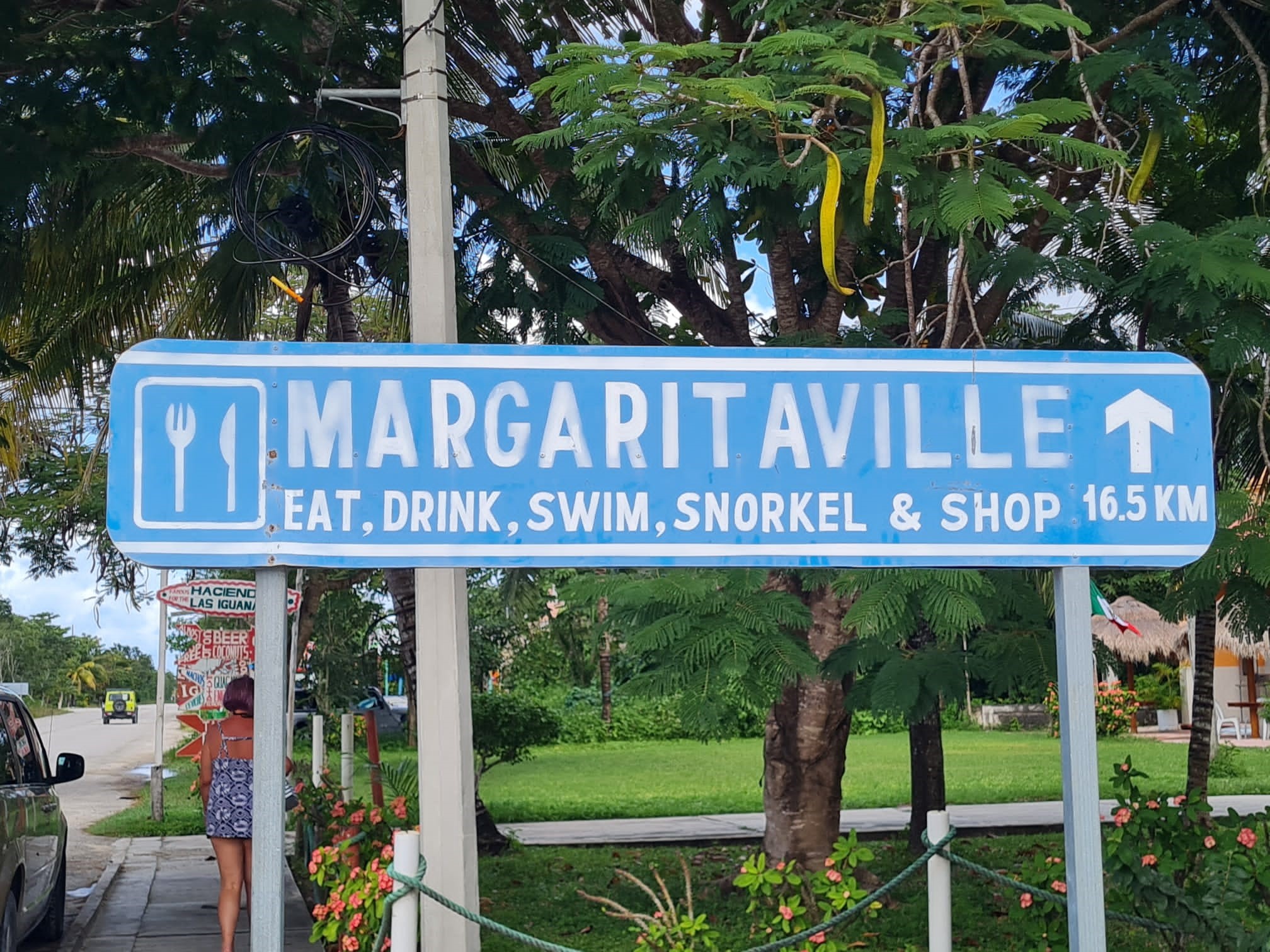 Oona's own Lydia recently visited Mexico to check out the destination and the diving for their guests. You can read all about her trip on their website here: https://www.oonasdivers.com/Blog-Cozumel-Beach-Paradise-Meets-Underwater-Paradise